Are you looking for fun, easy, toddler-friendly activities for a preschool, story-time or fun at home with your own child? Here's a collection of crafts, activities, songs, and books on a spring time theme, featuring rain, flowers, and bugs.
Crafts
Umbrella. Draw an umbrella shape. Let your child color that or paint it. Give the child raindrop shaped stickers to add.
Paint with flowers. Use a flower as a paint brush.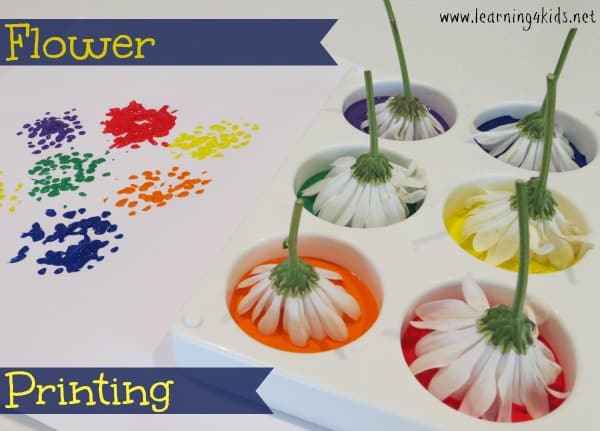 Plate or cup flowers: The children paint the inside of a paper cup, or paint a paper plate. Then you can cut it to make a flower shape. You could glue seeds to the center.
Painted flowers: Let your child decorate a piece of paper in any way you choose: paint with a brush or finger paint, or use dot markers, or do a spin art painting, or drip liquid watercolors on a coffee filter. Then you cut it into a flower shape and add a stem. You could glue on pompom centers or other decor.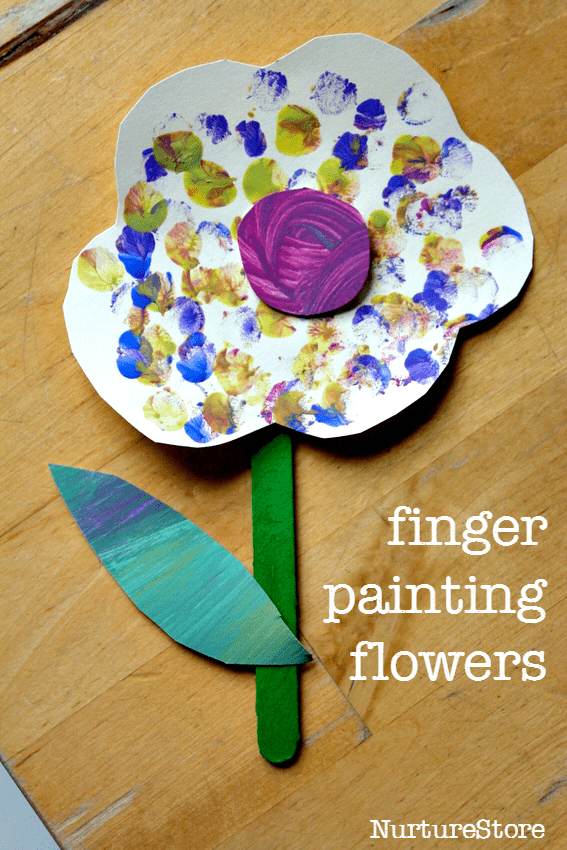 Cupcake paper flowers. Let kids decorate cupcake papers with crayons, markers, or whatever. Also let them decorate a big piece of paper – could glue on tissue paper as shown or could just color with markers. Then, cut a vase shape out of the paper, and assemble a collage like this.
Printed Flowers. Cut the stalks off a bunch of celery and print with the base, or use a plastic bottle and print with the base.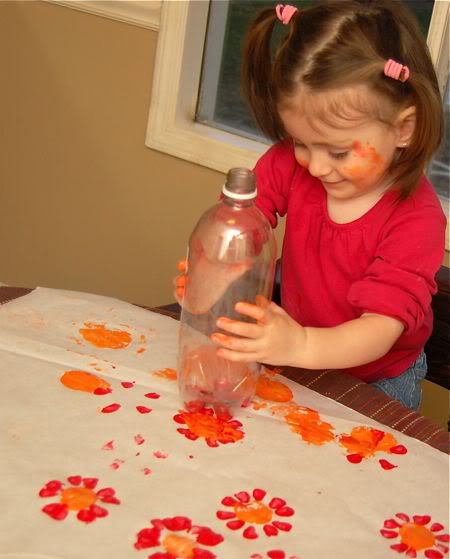 Coffee Filter butterflies. Put out small containers of liquid watercolor, q-tips, and coffee filters. The children dip the q-tips in the paint, then touch them to the coffee filters. You clip them into a clothespin and add googly eyes and piper cleaner antennas if desired.
Ladybugs. You can just start with red paper circles, or you can start with a paper plate and have the child paint it red. Then offer circle shaped stickers for the child to make ladybug spots with. Or give them a sponge paint dauber that makes circles of paint. After they've decorated the circle, you assemble the ladybug.
Egg carton bugs. The child decorates the egg carton – you assemble.
Pompom caterpillars. Take a craft stick, or a strip of cardboard. Your child can glue pompoms on it. You add eyes and antenna.
Here are a collection of craft ideas to go with A Very Hungry Caterpillar by Eric Carle: Baggie Butterflies—fill a ziplock with colored tissue paper. Use a clothespin, googly eyes and pipe cleaner to turn it into a butterfly; Make a fingerprint caterpillar; Tissue paper: cut up squares of tissue paper. Tissue paper collage: Draw a butterfly on paper, and put glue dots where you want the child to stick the tissue paper. Make a bendy 3-D caterpillar; Symmetry Painted Butterfly. Fold paper in half—put paint on one side, then fold paper closed to make a symmetrical paint blob. Then cut it into a butterfly shape. http://theendinmind.net/symmetrical-painted-butterfly-craft/ and https://www.adabofgluewilldo.com/line-symmetry-butterfly-craft/. Make a wiggling Caterpillar with circles of paper and paper fasteners.
Here are 20 more ideas for bug crafts.
Activities
Sticky Butterfly. Cut a big butterfly shape out of Con-Tact paper. Tape it to wall with the sticky side facing out – peel off adhesive backing. Kids stick pompoms, or squares of tissue paper, or squares of construction paper to the butterfly.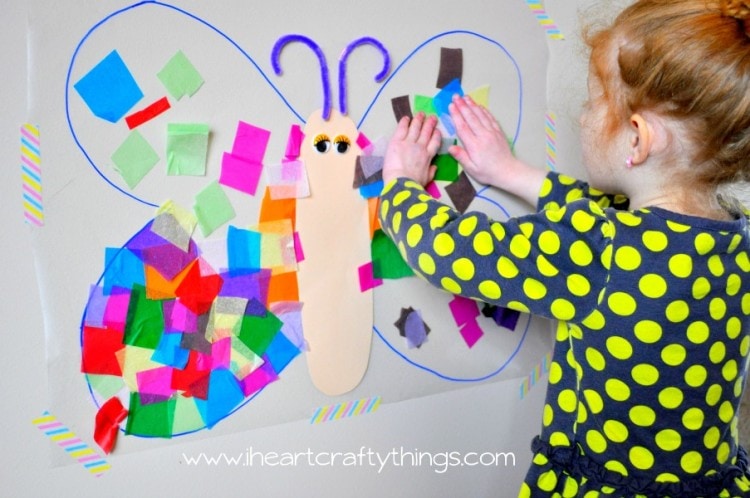 Garden Sensory Bin. Fill a bin with something to represent dirt: could be potting soil, or black beans, or coconut coir fiber, or cocoa cloud dough. Give the child fake flowers to plant, plus trowels and rakes for digging.
Bug Sensory Bin. Just take out the flowers out of the sensory material, and add in plastic bugs!
Catching Bugs. Put out pompoms and tongs. Tell the children the pompoms are bugs, and the tongs are their bird beaks and they're trying to catch bugs. You could also add lengths of thick cord to be "worms."
Bop the Bug. For a super fun large motor activity, decorate balloons to look like bugs. Give children a fly swatter to swat the bug with.
Colander. Get real or fake flowers with sturdy slender stems. Child "plants" them in a colander. This is great small motor practice.
Play-dough garden. Put out play flowers and play-do. The child plants the flowers in the dough.
Large motor skills game. Think of a collection of spring-themed movements: "stretch tall like a sunflower", "wriggle like a worm", "crawl like a spider", "spread your flower petals." Either make a set of dice they can roll with these activities on them, or write them on cards and put the cards inside plastic eggs, or write them on paper flowers.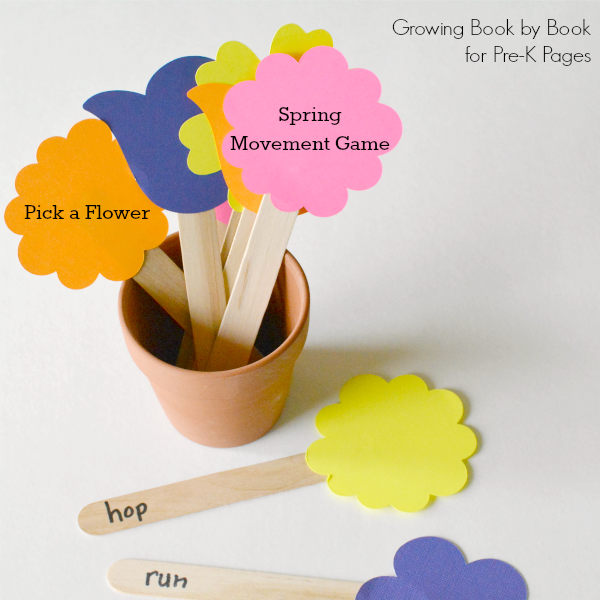 Hopping Game. Make paper lily pads, or puddles, or flowers. Kids jump from one to the next.
Feed the Very Hungry Caterpillar Game. Just search for those words, and you'll find so many options for creating a fun toddler activity: basically you have some sort of container decorated like a caterpillar, and some kind of small objects the child can put into the container that have pictures of all the foods discussed in the book. You could choose to make it a shape sorter for shape matching, or have a bottle with a small mouth to fit things in to stretch their small motor skills, or a bean bag toss type game for large motor skills.
Spring-time Songs
The Garden Song (Inch by Inch) https://www.youtube.com/watch?v=D3FkaN0HQgs
Inch by Inch, Row by Row. Gonna make this garden grow.
All it takes is a rake and a hoe and a piece of fertile ground.
Inch by Inch, Roy by Row. Someone bless these seeds I sow.
Someone warm them from below till the rain comes tumbling down.
A Little Drop of Rain Hits the Ground (Tune: If you're happy and you know it)
First a little drop of rain hits the ground. (Tap one finger on your palm.)
Then another drop of rain hits the ground. (Tap two fingers on your palm.
Then another and another and another and another. (Tap more fingers till whole hand clapping quietly.)
And pretty soon you hear a different sound. Splash! (Clapping loudly, ending with one big dramatic clap.)
I'll plant a little seed in the ground (Tune: I'm a little teapot)
I'll plant a little seed in the dark, dark ground. (bend down and plant a seed on the floor)
Out comes the yellow sun, big and round. (raise your arms to make a big circle over your head)
Down comes the cool rain, soft and slow. (raise your fingers up and down to make rain)
Up comes the little seed, grow, grow, grow! (squat on the floor and rise up slowly)
Storytime Rhymes about Spring and Bugs
This is a nest for a Bluebird cup both hands
This is a hive for a Bee    fists together
This is a hole for a bunny   All Fingers touching
And this is a house for me   Finger tips together for a roof peak
 Here is a beehive. hold up fist
But, where are the bees? Hidden away, where nobody sees.
Soon, they come creeping out of the hive… lift up fingers one by one
 1,2,3,4,5 — buzzzzzzz! Buzz the bees to tickle
5 little bees, up in the trees. Busy, buzzing, bumblebees.  (wiggle 5 fingers over head)
First, they go to a flower. (open left hand flower; wiggle right fingers to it)
Then, they go to the hive.  (left fist hive; wiggle right hand fingers)
Then they make some honey.  (pat tummy)
What a busy family of 5 !   (wiggle fingers all around)
A Bee is On My Toe (Tune: Farmer in the Dell)
A bee is on my toe. A bee is on my toe.
Heigh-ho just watch me blow.
A bee is on my toe. (blow gently on toe)
repeat with on my nose, on my head, on my ear…
Round and round the garden, hops the little bunny. (hop your fingers on child's hand)
One hop, two hops, (hopping up arm). Tickle you on the tummy. (tickle)
Springtime Books to Read
Here is a free printable handout of Spring Theme Toddler Activities you can share.